Dear Cyra,
On my third visit on Sunday, November 23rd, to the YBAC's exhibition "Figures of Empire: Slavery and Portraiture in 18th century Atlantic Britain," I was again curious as to the label of the introductory item of the exhibition "Elihu Yale; William Cavendish, Second Duke of Devonshire; Lord James Cavendish; Mr. Tunstal, and an Enslaved Servant" as the painting is identified as "Unknown artist." As the question of this painting's authorship was not specifically addressed in any of the three interesting online interviews on the Yale Center for British Art web page for this exhibition, I would like to make a contribution of my associated research:
As an art curator and theoretical analyst, I would like to respectfully suggest that the artist of this painting might be John Smybert (Smibert) (1688-1751). I am led to this idea, by a study that I made three years ago on Smybert's painting "The Bermuda Group" which is in the permanent collection of the Yale Art Gallery, depicting the Empiricist philosopher Bishop George Berkeley and his entourage, on the eve of their voyage to Newport in 1729. The stated purpose of their mission was to establish a ministerial training college on the island of Bermuda, a mission ultimately unsuccessful. John Smybert was born in Edinburgh, and worked as a painter and plasterer before coming to London where he studied with Sir John Thornhill. His painting style is similar to Thornhill's but much more distinct in his depiction of faces. This Smybert painting, which I first saw in the 2011 Yale Art Gallery exhibition "Life, Liberty, and the Pursuit of Happiness," is now on display in the permanent collection in the 2nd floor rear room of the new Street Hall section of the Yale Gallery.
On first seeing this "Bermuda Group" painting, my interest was invoked as an example of a peculiar branch of the 18th century philosophical movement Empiricism as taught by George Berkeley, whose outlook, as stated in his 1709 "A New Theory of Vision," was seen by many of his contemporaries, even such as Dr. Samuel Johnson, as a concept tantamount to solipsism. However, in the light of modern medical technology, CT Scans, and MRIs, we may consider that Berkeley was onto something closer to a modern physiological understanding of brain function.
My research essay on aspects Berkeley's brand of of Empiricism, and his intended application towards colonial psychology, as suggested in Smybert's painting, is attached [included below on this blog, ed.].
The date of circa 1708 is attributed to the "Elihu Yale..." group painting, at which time Smybert would have been 20 years old. according to Richard H. Saunders' thesis on John Smibert, the artist came from Scotland to London in 1709:
http://books.google.com/books?id=Wklq3JItYOgC&printsec=frontcover&dq=%22John+Smibert%22+paintings&hl=en&ei=uIXhToHCLKjf0QG76o
DTBQ&sa=X&oi=book_result&ct=result&resnum=1&ved=0CEUQ6AEwAA#v=onepage&q=%22John%20Smibert%22%20paintings&f=false
In the "Bermuda Group" piece as in the "Elihu Yale," the same palette of vivid colors is applied, the positions, settings, and strong focus of faces are highly similar, and the sanguine painting tones of complexions are in the same palette. Both paintings are of similar large scale. The constellation of figures follows the same conceptual pattern. Most notably, compared to other painters of the time, the treatment of background motifs are uniquely similar, in the YBAC painting, with dark, indistinct trees on the left. In the background center of the YBAC painting stands the base of a large column, whereas, in the Bermuda painting the background stand a widely-spaced columnade. On the right, are more lightened, medium-brown trees with detailed limbs and branches, with closely matched yellow-green foliage, and a circle of children with joined hands. Both paintings share a high degree of suggestion of aspects of individual personalities of each figure. --- There is certainly also the possibility that John Smybert saw the "Elihu Yale" painting, and thereby followed its style. Following the failure of Berkeley's Bermuda project, Smybert settled in Boston, where his portrait work became successful.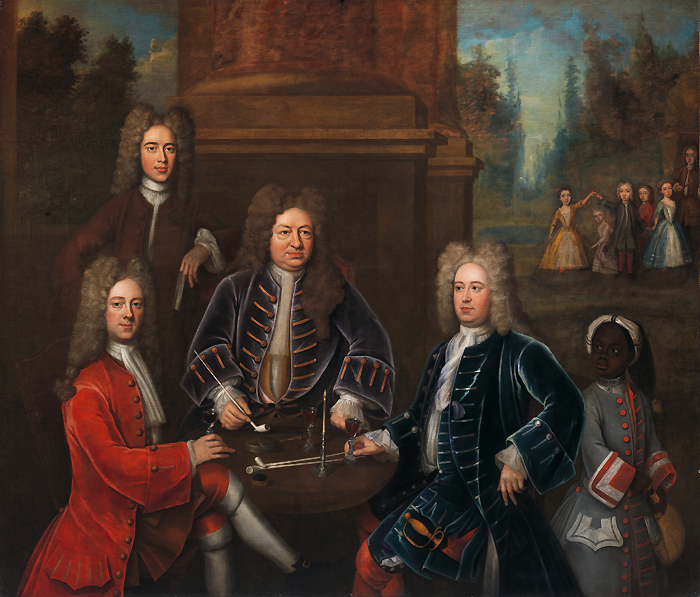 Unknown artist: Elihu Yale; William Cavendish, Second Duke of Devonshire; Lord James Cavendish; Mr. Tunstal, and an Enslaved Servant ca. 1708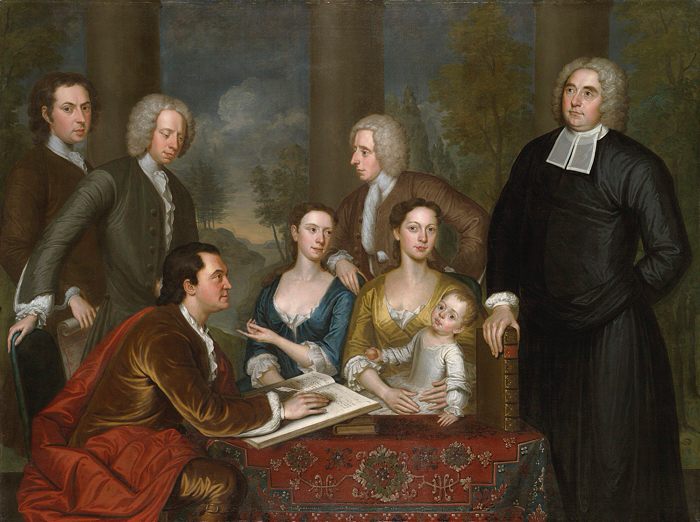 John Smibert "The Bermuda Group: the Berkeley Entourage," 1728-29. Yale Art Gallery permanent collection.


I would very much be interested in your opinions of these observations. Thank you!
Respectfully submitted for your interest,
Johnes Ruta
independent curator & art theorist -- since 1988; organizer of Philosophical Forums
Art Gallery Director New Haven Free Public Library - 2005-2015
http://AzothGallery.com/
azothgallery@comcast.net
203.668.6933
22 Willard Street
New Haven, CT 06515


John Smybert -- partial extract from Wikipedia
Smibert began drawing while apprenticed as a painter and plasterer, on moving to London he worked as a painter of coach carriages and a copyist.He studied under Sir James Thornhill at his academy, then travelled to Edinburgh and Europe seeking work as portraitist. He gained a reputation for his works copying old masters and receiving commissions for portraits in Italy and returned to England to capitalise on this.
Smibert painted a group portrait of the 'Virtuosi of London' society, of which he was a member; others in the group were John Wootton, Thomas Gibson, George Vertue, Bernard Lens, and other artists. He did not complete the painting, but did produce portraits in London up to September 1728, including one of Bishop Berkeley.
In 1728 he accompanied Berkeley to America, with the intention of becoming professor of fine arts in the college which Berkeley was planning to found in Bermuda. The college, however, was never established, and Smybert settled in Boston, where he married in 1730. He lived at the corner of Brattle Street and Queen-Street. He belonged to the Scots Charitable Society of Boston.



In 1728 he began painting "Dean George Berkeley and His Family," also called "The Bermuda group", now in the Yale University Art Gallery, Yale University, a group of eight figures; it is maintained that the person farthest to the left is actually the artist himself. He painted portraits of Jonathan Edwards and Judge Edmund Quincy (in the Boston Art Museum), Mrs Smybert, Peter Faneuil and Governor John Endecott (in the Massachusetts Historical Society), John Lovell (Memorial Hall, Harvard University), and probably one of Sir William Pepperrell; and examples of his works are owned by Harvard and Yale Universities, by Bowdoin College, by the Massachusetts Historical Society, and by the New England Historical and Genealogical Society.
In 1734, Smibert opened a shop where he sold paint, other artist's supplies, and prints. In his studio above the shop, he displayed casts and copies of Old Masters that he had painted in Europe. This collection, which Richard Saunders has termed "America's first art gallery", provided much of the early artistic education for Charles Willson Peale, Gilbert Stuart, and John Trumbull.


Posted by AzothGallery at 12/15/2014 5:11 PM | Add Comment