"ANIMA, ANIMALS, and ANIMUS"
Beloved souls, the Rainbow Bridge and Beyond
a two-person art exhibit of collages by Paula Emery of Lyme,
and paintings by Ralph Levesque of Higganum
Artists' Reception: Saturday, March 23, 2019 3:30 to 6:00 PM.
Curated by: Johnes Ruta

Connecticut Hospice
100 Double Beach Rd
Branford, CT 06405

Anima : an individual's true inner self that in the analytic psychology of C. G. Jung reflects archetypal ideals of conduct; also, an inner feminine part of the male personality.
Animus : an inner masculine part of the female personality in the analytic psychology of C. G. Jung.
Animals : well, you know that one!
Exhibition: February 27 to April 8, 2019 10AM - 8PM daily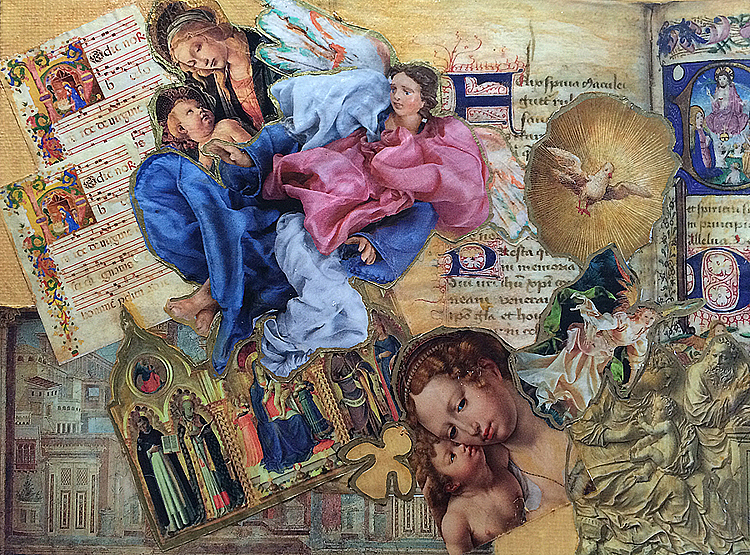 Paula Emery - ANGELS III -- collage, 5"h x 7"w
Artist Statement by PAULA EMERY
https://fineartamerica.com/profiles/paula-solimene.html
My art reveals - my love of animals and their unique personalities - their very distinctive eyes as the windows to their soul; of nature and its beauty - skies, trees, gardens, flowers, rocks, water. The beauty of the natural world just awaits to be captured by the brush. My collage mixed media works reflect my strong sense of design and tell a story without words. The stories reflect the joys and sorrows of women; from ancient past to present day …. from Angels and stone goddesses of ancient past memories to mental images of my daughter's days as a female in the Iraq war. My collage work tends to reveal where my heart and inner mind are when creating the work. I guess my heart rules my art even tho I am not aware of it during the execution….as some of my collages have taken more than a year to complete.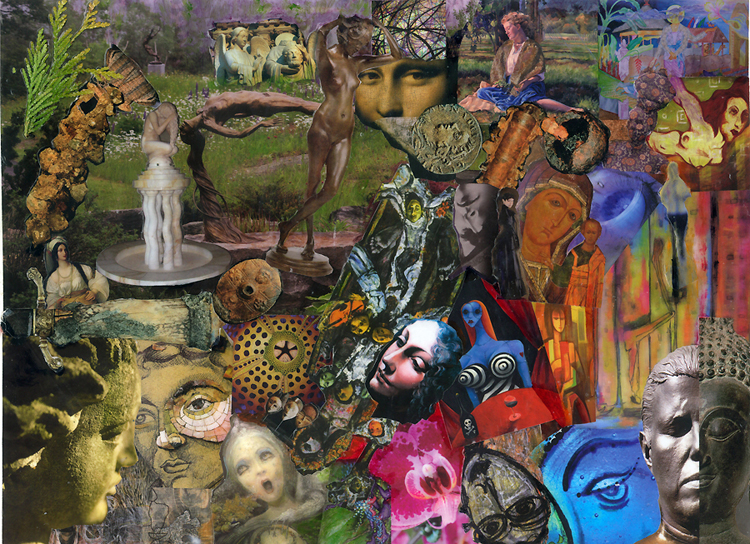 Paula Emery - FACES OF THE GODDESS -- collage, 12"h x 16"w
Associations: Former Board of Directors Member - Clinton Arts Gallery and the Madison Art Society; Elected artist member of the Madison Art Society; Artist Member the Essex Art Association, the Lyme Art Association, and Easel Insights; Represented on-line by Fine Art America and ArtMajeur.
Education: Graduate of University of Maine with a BA in History and Art History, minors in Art and Education. More recently, I have studied at the Crealde School of Art and Design, Winter Park, FL.; Lyme Art Academy, Lyme , CT; and Lyme Art Association, Lyme, CT.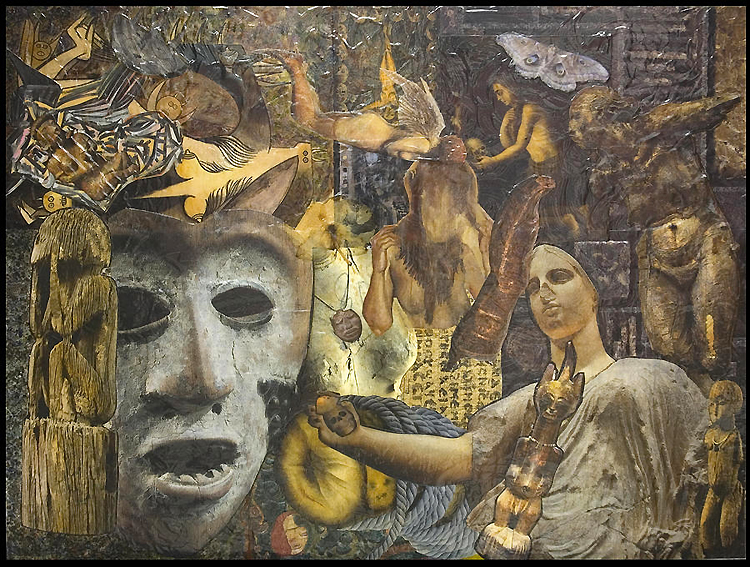 Paula Emery - ANCIENTS -- collage, 12"h x 16"w
***************************************************************************************************************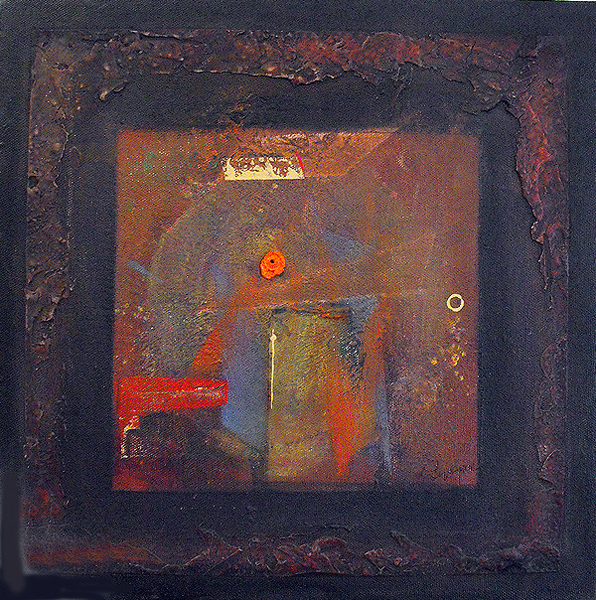 Ralph Levesque - SMALL LANDSCAPE -- mixed media on panel, 20"h x 20"w
Artist Statement by RALPH LEVESQUE
http://RalphLevesqueArt.com/
"I am a romantic visual poet - aware that all designs and symbols are inspired by the Natural. Therefore, I am not concerned with producing copied images of Nature, but, seek to find beauty within the concrete; behind the material level.
"Instinctively and unconsciously I seek the essence of 'universal beauty'- the intrinsic force of all. The true artist is but a person who understands what others only know about. Using materials both Natural and 'man-made,' old and new, discarded/ found or recycled; I discover their hidden truth. The hidden reality of matter it is always moving/ changing, evolving and becoming anew.
"My works are like artifacts from some distant past civilization and places unknown- pointing to new yet to be discovered worlds and realms. The element of time revealing past and future cycles of the universe are revealed, and appear in recognized/ yet forgotten memories, I have been granted a gift - a 'child like mind' - seeing the constructive patterns/ the rhythmic hidden constructs in nature and seeing the spiritual things that it really is. Reaching back, I allow the handcrafted, "touched by man" to show. "Using matter; I focus on being a conduit, through which timeless invisible sources and untouchable mysterious forces connect the physical and spiritual."
Ralph Levesque has experienced a lifetime of changes -- from getting his MS in Fine Art from University of Bridgeport, to teaching art for thirty five years in Hamden and Durham private schools, to displaying his imaginative and award winning works in galleries all over Connecticut.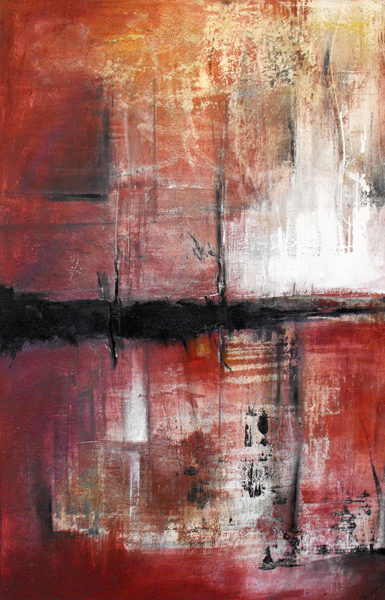 Ralph Levesque -- FIRE IN THE EAST - acrylics on canvas 30"h x 18"w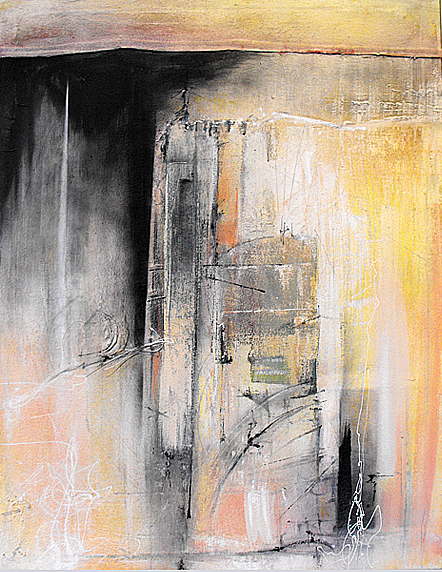 Ralph Levesque - MANTIS -- acrylic on canvas, 30"h x 20"w
**************************************************************************************************************
Exhibition February 26 to April 8, 2019
Curated by: Johnes Ruta, independent curator & art theorist
203.668.6933, http://AzothGallery.com/
azothgallery@comcast.net