897-899 Whalley Avenue New Haven, CT 06515 -- 203-387-2539
(click here for directions)
The Magical Mystery of Shamanism
visionary artworks by Peruvian shaman
Pablo Amaringo (1939-2009) and his Students

From the Collection of Scott Olsen, Ph.D.
(Professor of Philosophy, College of Central Florida, Ocala)

Curated by Johnes Ruta
Reception: Friday, May 11, 2018 6 to 8 PM

DaSilva Gallery
897-899 Whalley Avenue New Haven, CT 06515
A presentation will be given by Scott Olsen at 7:00 PM on the
essential elements of Pablo Amaringo's art, concepts, and
workshop, as well as Prof. Olsen's personal learning
and working experiences with Amaringo, and his group.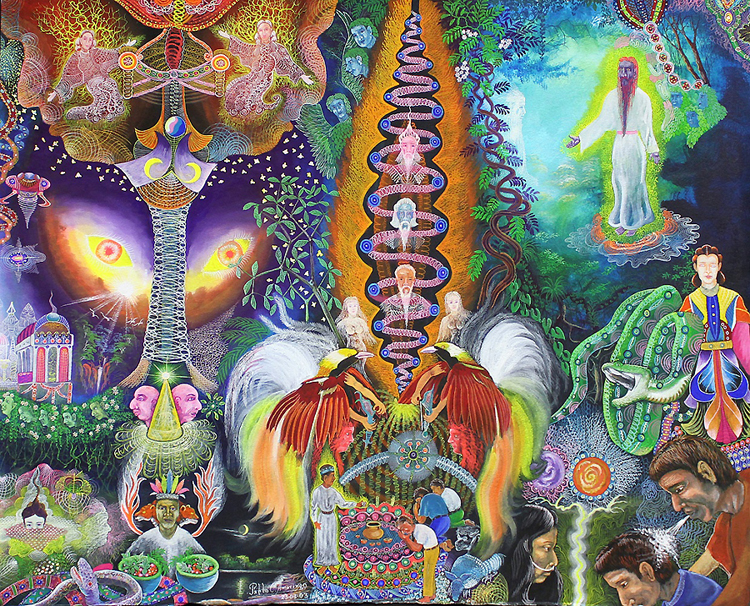 Pablo Amaringo "Conocimientos Curvos (Curved Knowledge)" acrylics on canvas, 20"h x 32"w

Pablo Cesar Amaringo Shuña (1938 – 2009) was an acclaimed Peruvian artist, renowned for his intricate, colorful depictions of his visions from drinking the entheogenic plant brew ayahuasca. Pablo worked as a vegetalista, a shaman in the mestizo tradition of healing, for many years, up to his death. He painted, organized and ran (along with Eduardo Luna) the Usko-Ayar school of painting, and supervised ayahuasca retreats.
When he was 17, Amaringo became extremely ill, nearly dying from severe heart problems. For over two years he could not work, but was eventually cured by a local healer. It was while recovering from this illness that he started to paint and make drawings with pencil and shading with soot from lamps. From a friend employed in a car factory he got permatex, a blue substance with which he colored his drawings.
Amaringo and Eduardo Luna co-authored and published the book Ayahuasca Visions: The Religious Iconography of a Peruvian Shaman (North Atlantic Books 1999). He occasionally gave interviews in the years following, and later penned the preface for Plant Spirit Shamanism:Traditional Techniques for Healing the Soul (Destiny Books 2006).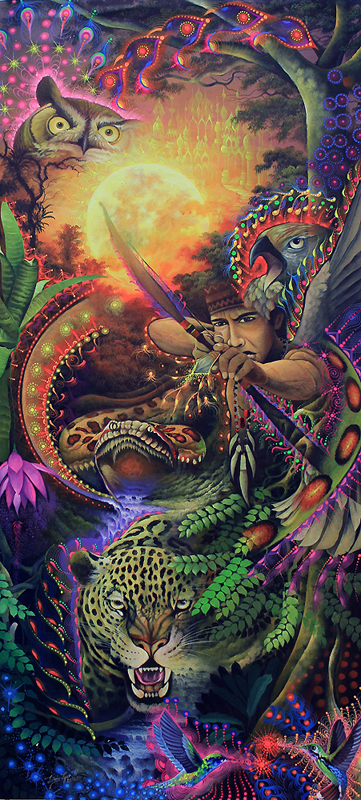 Deny Efer Rios Chavez "4850" acrylics on canvas, 40"h x 18"w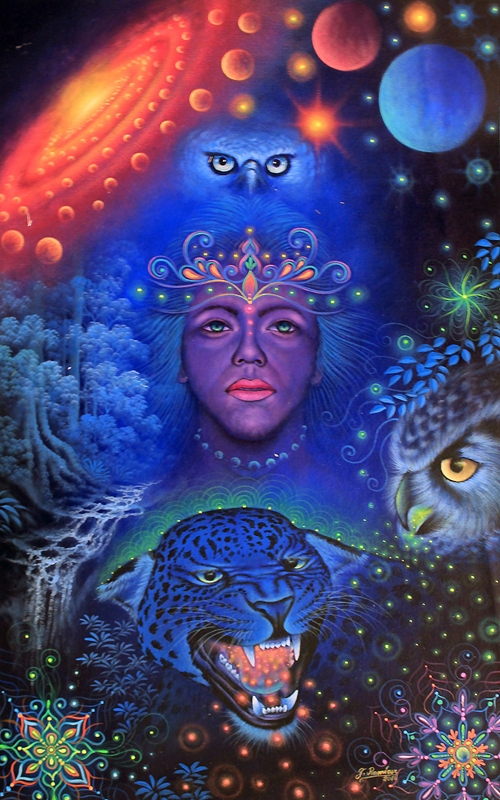 Jorge Enrique Ramierez Flores "4847" acrylics on canvas, 40"h x 24"w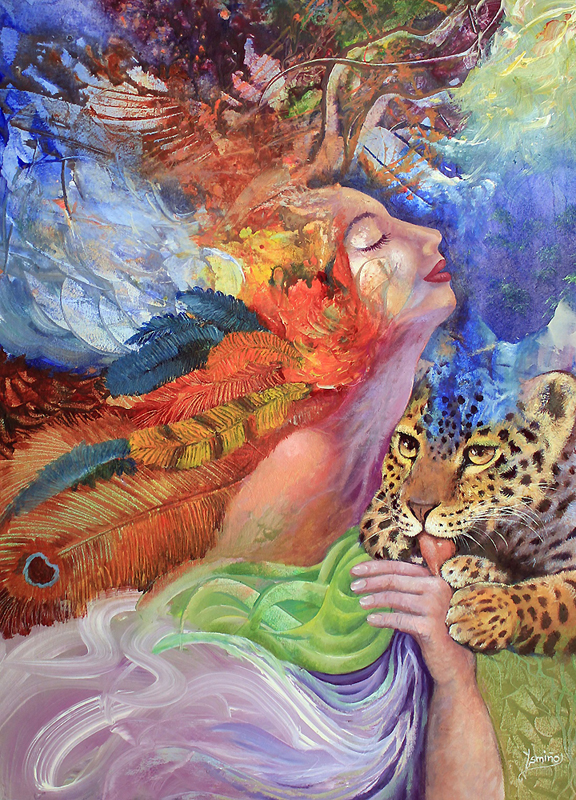 Jose Luis Rodriquez Ysmino "4802" acrylics on canvas, 40"h x 28"w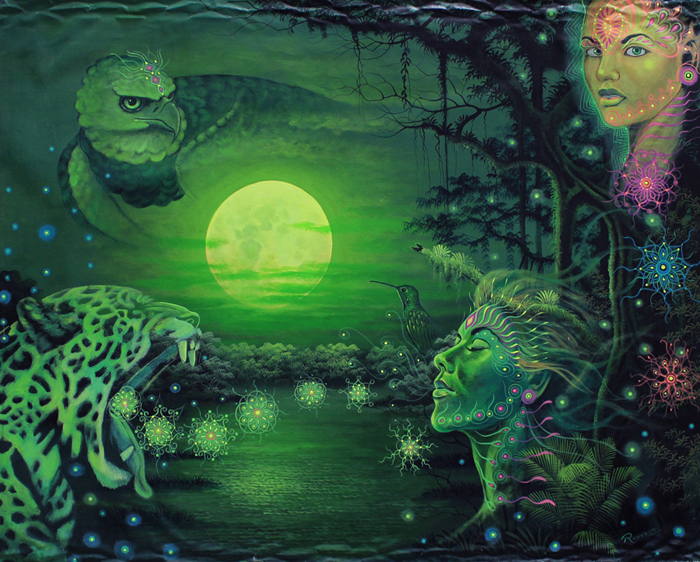 Ruisen Flores "4838" acrylics on canvas, 20"h x 32"w

Exhibition opening Video address by Scott Olden,
introduced by Gabriel DaSilva and Johnes Ruta:



From 2000 to 2016, Scott Olsen, Ph.D., made two trips into the highland Inca centers of Peru, including Cusco, Machu Pichu, and Q'ollorit'i, and six trips deep into the Peruvian rainforest, to the very headwaters of the Amazon River system. While working with the indigenous tribes, including the Quero, Shipibo, and Mestizo shamans, Olsen met the already great shamanic healer and artist Amaringo. There Olsen was exposed to the vividly colorful and deeply spiritual renditions of nature's life, the inner
spiritual world of plant and animal medicine teachers, and the transformative visions portrayed in their paintings.
This special exhibition features Scott Olsen's collection of paintings and prints by Pablo Amaringo and his students including Alfredo Zagaceta Cometivos, Mauro Reategui Perez, Mita Dexi Lozano Paima, Jorge Enrique Ramirez Flores, Ruisen Flores, Ener Dias Núñez, Deny Efer Rios Chavez, José Luis Rodríguez Ysmiño and Juan Benavides Perez. Scott Olsen is Emeritus Professor of Philosophy at the College of Central Florida, Ocala, and is the author of Mysteries of the Amazon: Visionary
Artwork of Pablo Amaringo and his Students and The Golden Section, as well as a variety of papers on the subject.
Credit for all Photos: Paul Arthur, Appleton Museum, 2017

Exhibition: May 11 to May 31, 2018.
Reception: Friday, May 11, 6 to 8 PM
Curated by Johnes Ruta
203-668-6933
http://AzothGallery.com/
azothgallery@comcast.net
DaSilva Gallery Fine Art and Framing
Gabriel DaSilva, owner & director
897-899 Whalley Avenue New Haven, CT 06515
203 387 2539