never forget
HOLOCAUST
never again
An Art Exhibit of Lead Sculpture
by Dana Baldwin Naumann
depicting the horrors of the
HOLOCAUST.
Dedication: "To my friend, the late Sigmund Strolitz, a survivor of the Auschwitz death camp, who realized that the world was beginning to forget the Holocaust."
~ Dana Naumann
Sigmund Strochlitz (1916 - Oct. 16, 2006) was born in Bedzin, Poland. He survived several concentration camps, including Auschwitz, where his parents and sisters were killed. In 1978, Elie Wiesel recommended him to become a member of President Jimmy Carter's Commission on the Holocaust, and he and Wiesel worked together to create the National Holocaust Memorial Museum. In 1981, he and his wife Rose endowed the Chair and Institute in Holocaust Studies at Haifa University in Israel.
In 1986, Strochlitz was named the second recipient of the Elie Wiesel Remembrance Award, and he later was a member of the Board of Directors of the Elie Wiesel Foundation for Humanity. In 2006, Mr. Wiesel attended his funeral in New London, CT. .
Poetry and narrations by Dana Baldwin Naumann.
Contact Representative:
Johnes Ruta
Art Curator & Theorist - New Haven, CT
(203) 387-4933
azothgallery@comcast.net
Click on the image or an arrow to view the series.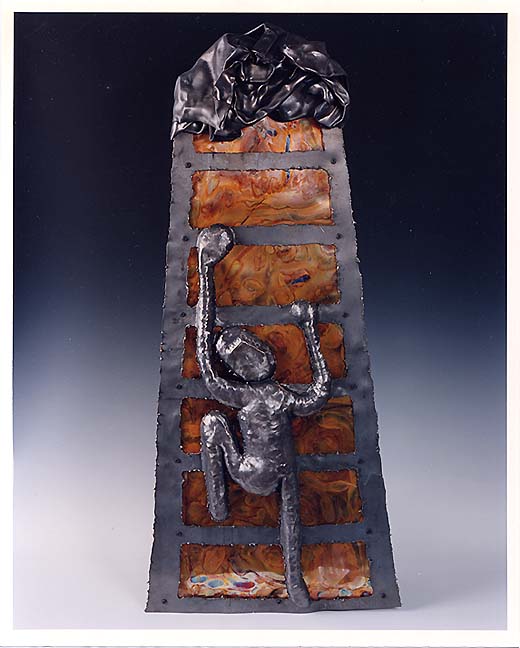 Previous Exhibition:
May 19 - June 12, 1999
Artworks Gallery
233 Pearl Street Hartford, CT 06103