HOLOCAUST -- NEVER FORGET, NEVER AGAIN
A Holocaust Memorial Exhibition
Hammered-Lead Sculptures by
DANA BALDWIN NAUMANN
at GALLERY RIVAA
527 Main Street ROOSEVELT ISLAND
New York City, NY 10044
Artist Reception: Saturday, July 11, 2009 6:00 to 9:00 PM
Exhibition: July 11 to August 7, 2009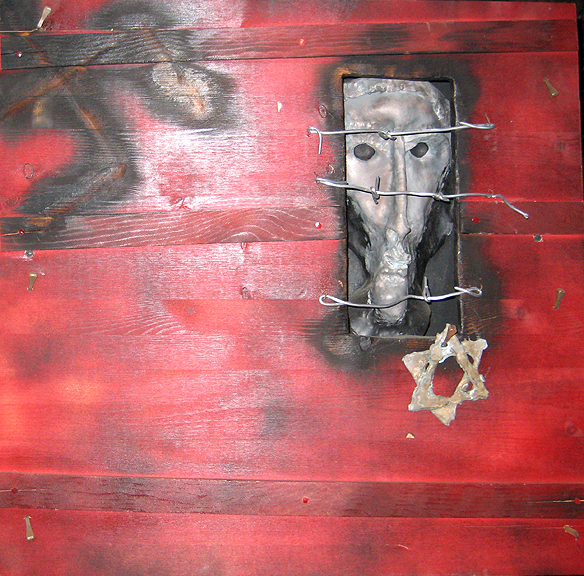 "Deportation" by Dana Naumann, hammered lead, wood and wire, wall sculpture,
30" x 30", 30 lbs.

This series of 17 hammered lead sculptures commemorates the Holocaust and is dedicated to the life of Sigmund Strochlitz (1916-2006), a survivor of the Auschwitz Death Camp in German-occupied Poland during World War II. Mr. Strochlitz realized that the world was beginning to forget the Nazi Holocaust. Each piece is accompanied by a narrative poem by Naumann, based on Mr. Strochlitz's experiences in the camps.
Mr. Strochlitz, Dana Naumann's life-long friend, was born in Bedzin, Poland in 1916, and had survived several other German concentration camps before being brought to Auschwitz, where his parents and sisters were all killed. Nobel Laureate Elie Wiesel was his best friend, and in 1978, Mr. Wiesel recommended him to become a member of President Jimmy Carter's Commission on the Holocaust, where he and Wiesel worked together to create the National Holocaust Memorial Museum in Washington, D.C. In 1981, Mr. Strochlitz and his wife Rose endowed the Chair and Institute of Holocaust Studies at Haifa University in Israel.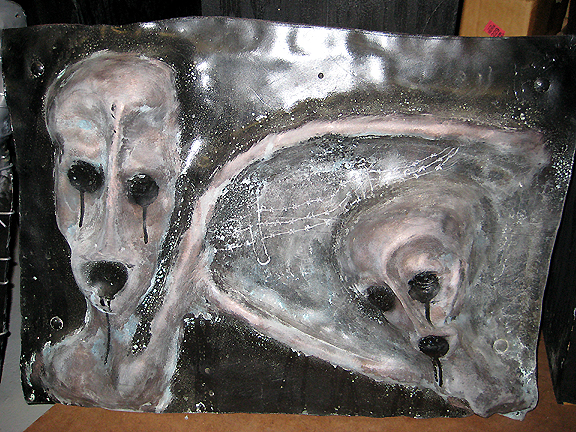 "Never Forget, Never Again" by Dana Naumann,
hammered lead sculpture, 12" x 12", 30 lbs.

Artist Dana Baldwin Naumann has a studio and gallery in North Branford, CT. His hammered sculptures are studies in texture, soft and warm looking even as metal surfaces, depicting religious, mythic, and archetypal scenes. His sculptures are crafted from lead sheets coated with copper or zinc patinas. This series of seventeen sculptures consists of eight pedestal pieces and nine wall hangings, and range from 14" to 44" in height.
Until 1994, Naumann had a successful career as Vice-President of Sales and Marketing with the Westinghouse Corporation in Pittsburgh, but then determined to devote his life to his art, a decision he says he has never regretted. Mr. Naumann's works are in permanent collections of The Aetna in Los Angeles, also in Hartford, and at Villanova University, PA. He designed and contributed sculptures to the permanent collections of United States Special Olympics, and a piece created on the theme of the Holocaust was given to the Thomas Dodd Center, University of Connecticut. His artworks have been shown at Gallerie Michele in Washington DC, Artworks Gallery in Hartford, Art Expo in NYC; the York Square Gallery, the Public Library and the Jewish Community Center in New Haven, CT; and at galleries in Hawaii, Los Angeles, and Providence, RI. He is represented by Broadfoot + Broadfoot, NYC.
Art critic Steve Starger wrote about his work: "Naumann's finely wrought sculptures aren't depressing or oppressive. He creates faces like monuments or totems, inspired by ritual masks and statuary, buy strangely poignant. Each piece emanates a sense of mystery and longing."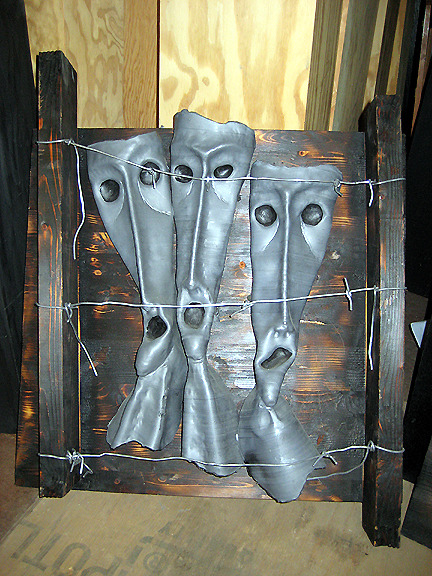 "If it Never Happened, Where Did They Go?" by Dana Naumann,
hammered lead, wood and wire, pedestal sculpture, 30" x 30", 40 lbs.