Marina Korenfeld's etchings evoke a quest for the mysterious, with a use of a symbolism that is profound, emotionally gripping, and visually stunning. Born in Odessa, Ukraine, with her father an accordion teacher and her mother a drama coach, her home was visited by artists, musicians, actors, comedians, and poets, creating an atmosphere that shaped and prepared her for a life in the arts. At Odessa's Theater and Art College, Marina majored in puppetry, "an absolutely marvelous experience in a hard-working environment," in a city rife with political instability and crime. While also studying Classical Figure Drawing, Portraiture, Watercolor, Oil Painting, and the history of art and theater, one Marina's puppet creations was selected for Odessa's Art Gallery, its largest museum.

"City (sketch)," etching, 4 5/8"w x 5 5/8"h


"Est Hekate In Rebus," etching,
5 7/8"w x 7 5/8"h

Ten days after her 1992 graduation, Marina's family immigrated to the U.S., where she was soon accepted into the School of Visual Arts, earning her B. A. in Fine Arts in 1996. "These were my years of great discoveries: Gustav Klimt, Joan Miro, Paul Klee, Picasso's Blue Period, and his pen and ink drawings," she recounts. Of contemporary artists, she favored Remedios Varo, Anne Bachelier, and Loraine Vail. She began making weekly visits to the Metropolitan Museum to sketch and draw the works of Rodin and the Roman and Greek sculptors.

"Bahamut," watercolor & ink drawing, 8"w x 11"h

An illustration for The Encyclopedia of imaginary beings by J.L. Borges portrays one of its characters - a fish called Bahamut, a creature so immense that no
human being can withstand the overwhelming sight of this beast. All the seas
and the oceans put together amount to no more than a tear from its eye.
According to an ancient legend, Bahamut was created to serve as a base
on which our world was built. In the picture, the whole of humanity is
set on an endless journey, contemplating everything passing by, heading
in an unknown direction along with the magical Fish.


"Persistence of Memory," etching, 7"w x 14 5/8"h

Yale student Natalya Sukhonos, Marina'a sister, writes that the development of Korenfeld's style and artistic philosophy was influenced not only by the Great Masters, but by the literary works of Carlos Castaneda, Herman Hesse, Umberto Eco, Jorge Luis Borges, Garcia Marquez, and Victor Pelevin, which "confirmed her vision of the mystical power and complexity of the human psyche."

| | |
| --- | --- |
| | |
| "City of Creaking Statues," etching, hand-watercolored, 9 3/4"w x 12 3/4"h | "Pisciscustos (Fish-Guardian)," etching, 4 1/4"w x 6"h |

Being born under the sign of Pisces, the fish is Marina's favorite motif, as an agent of silent and invisible forces, omnipresent in all of her work under various guises. Sometimes with a solemn imposing presence, it takes the role of a Guardian or a Traveler contemplating the world from above. Often, however, the fish is playful and mischievous, inviting you to partake in its freedom, for instance, in the bright watercolor where fish serve as giant kites for the children. Marina draws frequently upon the powerful forces in nature, which according to Castaneda, determine human behavior and whose origin is mysterious. The process of learning how to harness these forces is an important magical test.


| | |
| --- | --- |
| | |
| "Eternal Game," etching & aquatin, 6"w x 7 1/2"h | "Piscisviator (Fish-Traveler)," etching, 4 1/4"w x 6"h |

Another crucial symbol in Marina's art is the figure of the Sirin – the half-woman, half-bird creature emerging from Russian mythology, which in all its many forms most closely approximates the figure of the Muse or Inspiration, soothing, gentle and incredibly lyrical. In her small paining "The Blue Bird of Happiness," the Sirin personifies happiness itself; implicit in this painting is the highly Romantic idea that true happiness emerges in the act of Creation, since the Artist is inspired by a divine, mysterious presence. In an enigmatic etching, "The Eternal Game," the Sirin appears in a vision before a woman playing a game of chess; following a mystical strain, the etching seems to suggest that the Sirin is the woman's alter ego and that the game she is really playing is a game of identity; the themes of intro-spection and the self are crucial to Marina's art: "I deeply believe that only by delving into the enigmas of the self and moving the boundaries of your knowledge, can an individual truly engage with the world and bring about change in a profound, meaningful way. These are the
principles my paintings are about, symbolized in my mystical blue bird, imaginary fishes, and flying
women."

"Master and Margarita," from the novel by Mikhail Bulgakov, etching, 16 1/2"w x 7 3/8"h
Since 1992, Korenfeld has shown her work at the Odessa City Gallery; in New York City, at the National Arts Club, the "IDEA" Aesthetic Center, the Credit Suisse First Boston Corp., and the Students' Art League; and in New London in 2002, at the Golden Street Gallery.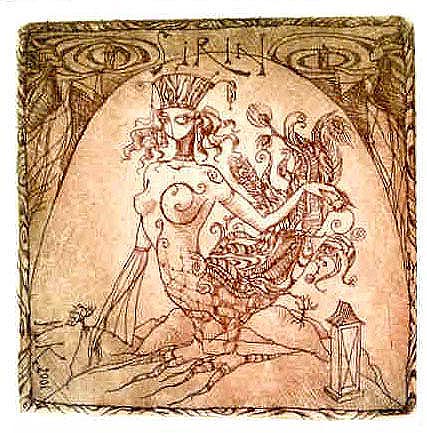 "Sirin," etching, 2 5/8"w x 2 5/8"h

A creature from Russian mythology, Sirin is a relative of the Sphinx and the Siren, but even
more mysterious than both of them. Sirin is supposed to keep all the secrets in the world
for it has no mouth, and to remain the last creature to inhabit the Earth. No wonder that
it is just as lonely as it is wise...