Watercolor Watercolor Paintings
by Dennis Gentle

Dennis Gentle is a potter and watercolorist from Sydney, Australia, living in New Haven, now in his seventies. During World War II, he served in the RAF in the European theater of the war. As an artist, he was a Foundation Student at the Australian School of Art in Darlinghurst, Sydney, and has spent his working life as a Production Designer in the Film Industry where he acquired his skill as a painter. His pieces are small realistic and impressionist beach and landscape paintings, highly aesthetic, and inexpensively priced.
(Each image can be clicked for a larger view.)
Mr. Gentle has Art Directed films for British directors Michael Powell and Nicholas Roeg, Canadian director Ted Kotcheff and American directors Bunny Haskin and Phillip Leacock. At his Pottery Studio at 151 Canner Street, New Haven, he maintains an extensive selection of beautiful hand-
made items.

Thimble Island (Stony Creek, CT), watercolor, $75.
York Square Cinema Gallery
61 Broadway, New Haven, CT 06511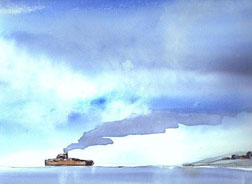 Calais Steamer 1911, watercolor, $75.
Exhibition: February 2 - March 8, 2003
No Reception scheduled for this exhibition.


Gallery curator, Johnes Ruta, (203) 387-4933