Secret Spaces
works by
Caryn Azoff
Caryn Azoff teaches Visual Art at Hamden Hall Country Day School in Hamden, where she is curator of the Moira Fitzsimmons Arons Art Gallery. She is also co-director of ALL (Arts + Literature Laboratory), 5 Edwards Street. Born in Los Angeles, Azoff received her M.S. in Art Education from Central Connecticut State University, concentrating in Drawing & Painting, Art Therapy, and Child & Adolescent Psychology. She was awarded honors as Outstanding Graduate Student.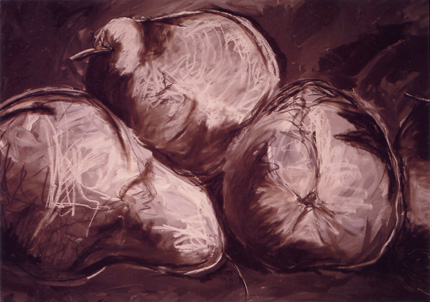 "The Pears"
monotype

"My work continues to define the stories I wish to tell," writes Ms. Azoff. "In order to move forward, the need to explore past experiences becomes apparent. There is a passion I feel when I am painting or printmaking, when lecturing on a famous artist, when helping a student pull a print -- being in the studio and watching whatever 'it' is, which makes art, come together in a work."
"I use the still life and abstract landscapes as a basis for the composition. The drawings center on organic, figurative shapes and forms. Placement is the most important part and as I work on this picture plane, the spaces between the objects define the surreal landscape. The mark on the page is essential to completing this narrative. These new works use drawing, erasing, layering of materials to find a unique balance. I use various mediums to transmit these concepts. From collage, printmaking, painting to drawing, I enjoy the way in which the mediums communicate the vision of beauty and grace."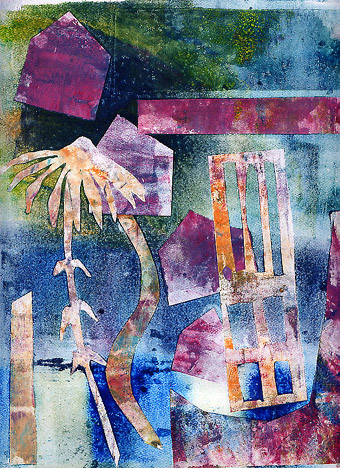 "In the Garden"
monotype

Caryn Azoff has participated in many group and solo shows throughout Connecticut during the past twelve years, and in November, 2003, had a solo retrospective exhibit at Ceres Gallery in Chelsea, NYC.
Artist Reception: Sunday, June 27, 4:00 - 6:00 PM
Exhibit: June 23 - July 29, 2004
The York Square Cinema Gallery
61 Broadway * New Haven, CT 06511
Gallery curator: Johnes Ruta (203) 387-4933
azothgallery@comcast.net
http://azothgallery.com/