The Pines of Rome
Italian Landscape Oil Paintings by
Carol Anne Mazzotta

Carol Mazzotta's landscape paintings are studies in the depth of the natural, sun-illuminated
colors of the rolling valleys, mountain villages, city alleys and hillside steps, of Rome and
northern Italy. The regions of Tuscany and Rome, and indeed their traditions and cultural
history, are places close to the heart of the artist – her husband Giuseppe is a native of Italy
and Professor of Italian Literature at Yale University. Her color palette of refined earth-tones,
clear blue skies and purple shadowed clouds brings forth the warmth and elegance of
architecture and countryside.
Ms. Mazzotta received her Masters of Philosophy in French Literature from Yale University,
and her B.A. from Tufts, after studying Extra-Mural painting at Cornell. She also received her
Masters in Studio Art and her K-12 Teaching Certificate from Southern Connecticut State
University.
Ms. Mazzotta is a volunteer art instructor at Fellowship Place, New Haven; and a volunteer
liturgical artist at Saint Rita's Church in Hamden. Until 1999, she was a an art teacher in area
parochial and public school systems, and in the 1980's an adjunct professor of Drawing at
Southern Connecticut State University.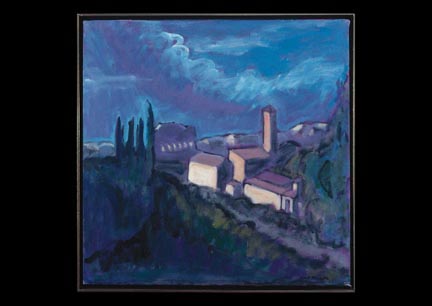 "Scene from the Palatine," oil on canvas, 24x24"
Her art works have been awarded many honors over the years, beginning with a Woodrow
Wilson Scholarship for her studies at Yale.
Carol Mazzotta is represented by ShoreLine Arts of Westbrook. Her work has widely shown in
the New Haven area, recently at The Frame Shop, Flew the Coop Gallery, Eierweiss Gallery, and
at the Yale Graduate Club and the New Haven Lawn & Tennis Club. She has also had shows at Willoughby Wallace Library in Stony Creek, Munson Gallery, and at La Parete Gallery in Toronto, Canada.
The York Square Cinema Gallery
October 9 – November 13, 2002
Artist Reception : Sunday, October 13, 4-6 PM
Gallery curator, Johnes Ruta, (203) 387-4933, azothgallery@comcast.net


Return to York Square Gallery