REFLECTIONS
Pointillist digital Giclee' prints

by Jewelry designer
Peter Indorf

Artist Reception: Sunday, January 4, 4:00 - 6:30 PM
Everyday objects and places become visionary images when seen through the eye of Peter Indorf. His images -- urban city scenes, places of tranquility, Yale environs, and extreme closeups -- are expressions of a personal vision that pull the viewer into a timeless, peaceful and beautiful world.

Peter Indorf has been an artist all his life. The creation of art objects captivated him all through school. After
graduation, he traveled the United States on a four-year quest.He studied jewelry making in California and
sketched all over San Francisco and the West Coast. Moving to New Haven in 1972, he founded Peter Indorf Jewelers. There he expressed his creative energies in silver, gold, and platinum, and a variety of diamonds, precious and colored gem stones and pearls.

In 1980 he branched out into digital graphic design, and was excited by the possibilities of the new digital
medium. He founded an advertising agency to handle the entire job of promoting his jewelry company.
Mastering new skills of digital photography, digital processing technology, ad design and copy writing led
to developing new techniques to turn photographs into photo-illustrations that resemble traditional media,
each with a painterly quality and brilliant color.
(Click on image to view larger image)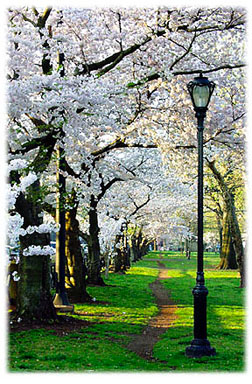 Cherry Blossoms at Wooster Square, New Haven
Poinitllist digital Giclee' photo print, 2003

Indorf's most recent pieces are from a series of original, limited-edition photo-illustrations on rich watercolor
paper. Themes feature the unique charm of New Haven and Yale, scenes in Madison, CT, and New York City, the world of nature, and seasonal landscapes. His virtual gallery is at www.peterindorf.com.
Exhibit: December 30, 2003 - January 29, 2004
The York Square Cinema GallerY

Gallery curator: Johnes Ruta (203) 387-4933
azothgallery@comcast.net
http://azothgallery.com/