Hi, my name isn't really Amy Blue.

I use Amy's identity so I can explore the erotic art field letting my imagination roam free, wherever it goes.
My work is not expenisve for original oils.You can experience the luxury and spirit of buying an original piece of art. It will bring the feeling of your personality to your home better than anything else. And in doing so, you support the spirit of creavitity and the celebration of sexuality.
Thanks for coming to see my artwork. We take American Express, Visa, Mastercard ,
checks and Money Orders.

Custom paintings can be commissiioned. At this time rerproductions are not available.
We have started a jewelry page. More to come.
Amy can be reached at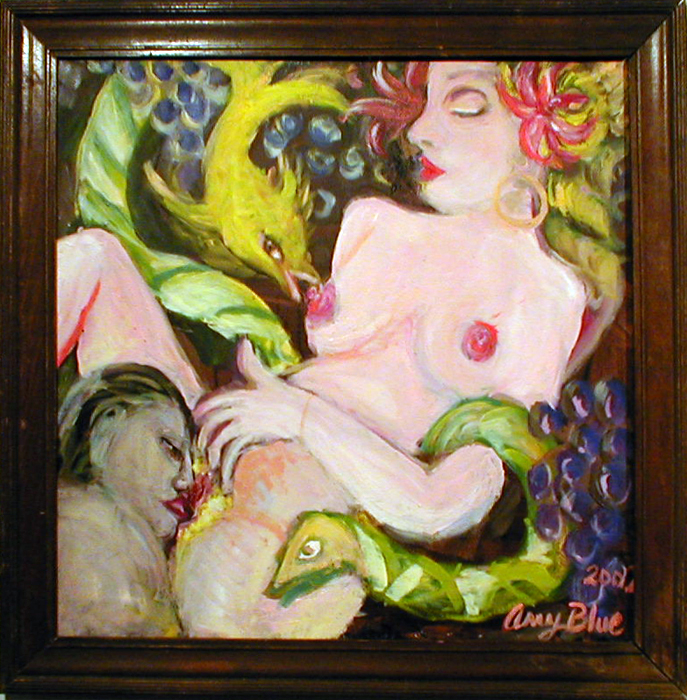 JUNGLE LOVE SCENE
oil on canvas, 20"x20", $2,800
Amy's first exhibit in a gallery outside cyber space
will be in a 4-person show called "EROTICA"
at the HYGIENIC ARTS COOP GALLERY,
79 Bank St.,
New London, CT,
(860) 443-8001.
Reception: Friday, February 15, 2002, 7 - 10 PM
Featuring the erotic artworks of Amy Blue,
Wendy Gell, Erik Hammer, and Luis Martin.

Exhibition continuing to March 23.
Please call or write for more information.