Connie Brown - Lather
acrylic on linen, 30" x 30"

Connie Brown
-- artist statement
After focusing on sculpting for years then painting landscapes, I have become addicted to the puzzle of creating abstract imagery. Inspired by nature, my approach to painting is process oriented. Photographs I have taken are seed for the organic forms, lyrical lines, rhythms, patterns and colors that emerge in my current body of work.Recently, I have been further exploring distinct areas of a previous painting; this detailed composition is what propels me into my next abstraction.
I paint on linen in acrylic, various mediums, acrylic flow, pastes and water. I use large and small brushes, palette knives, squeegees, rags and my fingers.
Layers of large sweeping gestures generate dominant forms. I continuously refine and edit- adding and eliminating through means of rubbing, dripping, drawing, developing the surface and creating patterns
with mark making. Often densely painted areas coincide with translucent washed over forms, creating space and structure.
I paint abstractly because of the unpredictability of the process; thoughtfully considered, deliberate choices unearth new and unexpected adventures.
~ Connie Brown, 2016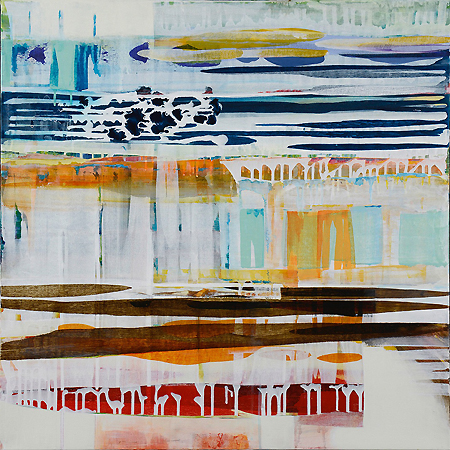 Connie Brown - Plunge
acrylic on linen, 30" x 30"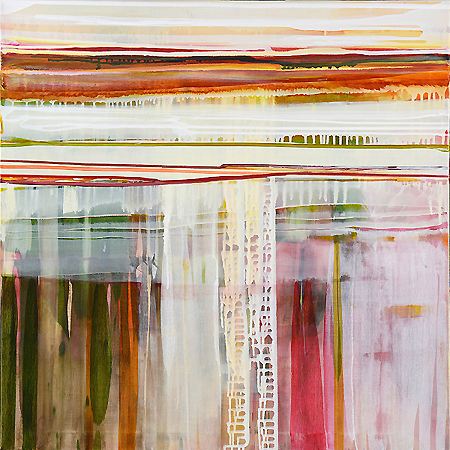 Connie Brown - Ebb
acrylic on linen, 30" x 30"

Suzan Scott
-- artist statement
'...as a painter, my language is line and color and shape. they are my tools. they are my voice. made visible...' ~ sas, may 2016
'...the question is never: what am i looking at?
-- the question is: what do I see?' ~ sas, july 2016
"I have created a way of art making that combines my interests in art, nature, and science. Nature informs my work and directs my eye; the effects of light, color and atmospherics feature prominently in my work. New visual information constantly presents itself to me. Close observation and awareness of the moment play a big part in my art practice.
The work begins outdoors with color sketches and drawings. Elements of light, color and shape draw my eye, as do patterns and relationships between objects. With each sketch, I search for just the right degree of abstraction, seeking to remove the obvious and allow me a more open interpretation.
When I move into the studio I often produce a number of small studies, working with a variety of media and a range of scales, in an effort to more fully develop what I've seen and experienced. I rely heavily on visual memory and intuition to create work
that is not time or site specific but evocative, specific, only to itself."
~ Suzan Scott, July 2016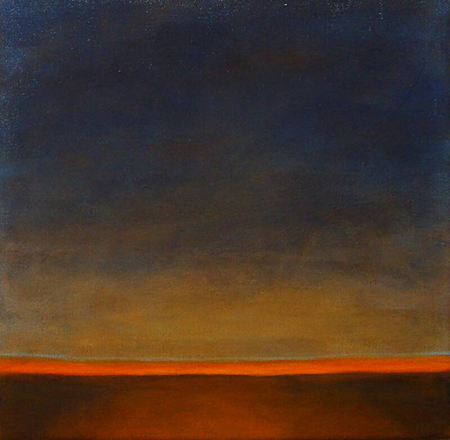 Suzan Scott - The Early Hours No.2
acrylic on canvas, 12" x 12"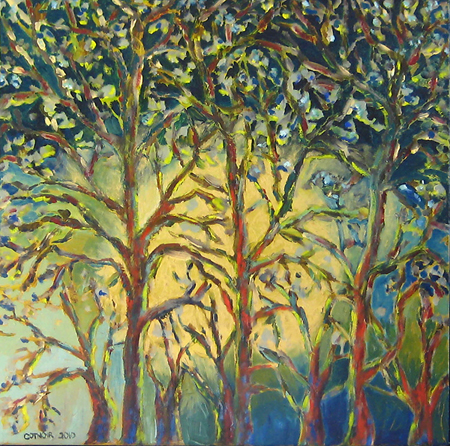 Rosemary Cotnoir - Big Moon
oil on linen, 20" x 20"
Rosemary Cotnoir
-- artist statement
The subjects I paint vary, but I am attracted to bare trees. It is not a particular type of tree but more about the patterns and twisted shapes they form that interest me.
I sketch elements to find the most pleasing composition while making notes about color and light. Then I rely on memory and intuition to complete a painting. Sometimes I apply paint directly
to the canvas without having any particular direction other than color and imagination. When I begin this way, for me, the results are visually exciting.
Currently I am experimenting with patterns. Pattern is an underlying structure that organizes surfaces in a consistent regular manner. The forms I work with are derived from nature and classical motifs such as flow, branching, spirals, lines, dots and symbols. These are repeated intuitively so that they come together to be viewed in a pleasurable way as a whole.

~ Rosemary Cotnoir, 2016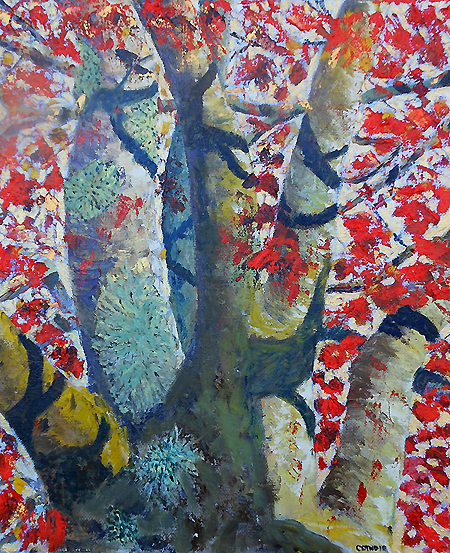 Rosemary Cotnoir - Tree with Lichen
oil on linen, 20" x 16"

Rosemary Cotnoir - Something is Happening in the Woods
oil on linen, 16" x 20"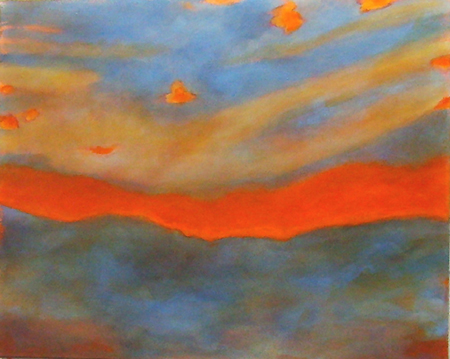 Suzan Scott - Atmosphere Sunrise No.7.2
acrylic on canvas, 12" x 12"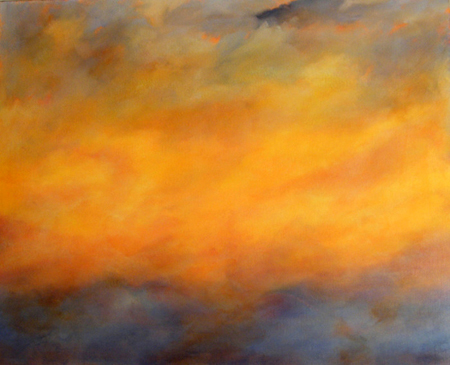 Suzan Scott - Atmosphere Sunrise No.1
acrylic on canvas, 12" x 12"


Suzan Scott - Atmosphere Sunrise No.7.2
acrylic on canvas, 12" x 12"