Golden Street Gallery
WHERE THE GOLD MEETS THE GREEN
94 Golden Street
New London, CT 06320

Gallery (860) 444-0659
e-mail: goldenstgallery@yahoo.com

Director: Gregory Bowerman
cell phone (860) 287-7412
Gallery Hours:
Thursday, Friday 3 pm-7pm
Saturday from 12 noon-7pm

Sunday thru Wednesday
by chance or appointment.
Turn Around Stick it Out

Curated by and presenting 2005/2006 Marie Sharp
Foundation Recipient Elizabeth Brown and friends.

We are pleased to have Liz Brown return to the Golden
Street Gallery from New York City, with new comers
Seth Cohen and more for this special six week
engagement.

January 28 - March 11, 2006

Opening Reception: Saturday January 28, 6pm-11pm

Also at 730pm, on January 28th, "R.O.O.D. Awakening",
staring the R.O.O.D Crew Annie Sharp, Jason Head,
Marcus Morales and Liz Brown, will give a live
performance in front of the gallery on the corner of
Golden and Green Streets.

******************************************************************

Bulgarian Mystique
new work by

Donna Martel
Brad Guarino

November 19 - December 31, 2005

Opening Reception: Saturday November 19, 6pm-9pm

| | | |
| --- | --- | --- |
| | | |
| | | |
| "Alcove" by Brad Guarino | | "Maria's Garden " by Donna Martel |
Brad Guarino is a painter and printmaker living and working in New London, Connecticut. Last year he won an individual artist grant from the Connecticut Commission on Culture and Tourism, and was awarded the top prize at the Society of American Graphic Artists' National Exhibition; he has also won honors at past Connecticut State Artist's Exhibitions. Guarino was an artist-in-residence this past summer in southern Bulgaria through a fellowship from the Griffis and Orpheus foundations. He graduated from the Lyme Academy College of Fine Arts, and is currently an MFA candidate with a teaching assistantship at the University of Connecticut School of Fine Arts.
Guarino has had a three person show in Manhattan and exhibited his work in Bulgaria, Boston, California, Chicago, and Miami, as well as Hartford and New Haven. His paintings, drawings and prints are included in the permanent collections of the Florence Griswold Museum, The Lyme Academy College of Fine Arts, the Orpheus Foundation, The Griffis Foundation, Electroflex Corporation, and Pfizer, Inc.
Prior to becoming an artist Guarino had an 18 year career as a biochemist.
Brad Guarino
839 Montauk Avenue
New London, CT 06320-4334
860-443-6001
bradguarino@sbcglobal.net
www.bradguarino.com

******************************************************************

"Top to Bottom, side to side, inside out... "
views by
Kat Murphy and Greg Bowerman


Opening Reception: Saturday October 15, 6-9 pm

Kat Murphy and Greg Bowerman, both artists in
residence at the Hygienic Art Co-op, express their
views of how they see the world, in paint. Both
residents recently painted the mural on Eugene O'Neil
Drive dealing with perspective and differing vantage
points. This exploration of space inspired them to
create this new body of work.
Exhibition: October 15 - November 13, 2005

Kat as a child.

Greg as a child.
Mind Hues
Paintings by

Bernard Re, Jr.
Adam Polsz

September 10 - October 9, 2005

Opening Reception: Saturday September 17, 6pm-9pm

"Monorail" by Bernard Re

Re will be showing recently completed lyrical expressionist linear style works that include:
Why the Ban Sidhe howls
".Our language tells the path we have walked: stock is
not a herd, mine is not a quarry. Brand no longer
refers to cattle markings, and share no longer has
anything to do with generosity."
Re's most recent paintings represent a return to his working in high-gloss enamel paint - the medium he started working in over thirty years ago.
Re states that, "the line back then was energy and DNA strands weaving their way into shapes and forms." Today the line is still energy but the energy is the make-up of the eleven dimension "String Theory" that physicists are working on, ".according to string theory, absolutely everything in the universe all of the particles that make up matter and forces is comprised of tiny vibrating fundamental strings.", as quoted from Brian Greene string theory physicist and author of The Elegant Universe. Re will have a portrait of Mr. Greene in the show.
RE has exhibited extensively and was recently juried into one of the most prestigious shows in the region, the 56th Annual Art of the Northeast USA Exhibit at the Silvermine Guild Arts Center in Norwalk CT. He has also participated in juried museum shows including the William Benton Museum of Art (Storrs, CT) and The New Britain Museum of Art and in many juried group shows
in the northeast and in Canada.
His new enamels have the colors and line bleeding into one another and are less hard edge. Giving them more of a dimensional feel, more dynamic, more organic.

When viewed from different angles different things emerge. In some of the new works - especially the portraits you can see multiple faces emerge. "Seeing what will emerge as the lines go down and the shapes evolve in layers of line upon line is wonderful, new things happen. Then again it can also be a disaster - a wreak", says Re.
For more information about Bernard Re, Jr. you can
visit his website at www.globalhome.com or contact him
at (860) 824-1010 or bre@globalhome.com
New Work by New London Artists'

Sylvia Malizia and
Gretchen Hatfield

August 6 - September 4, 2005

Opening Reception: Saturday August 6, 6pm-9pm

"Nature Abstraction" by Sylvia Malizia

Sylvia Malizia has lived in southeastern Connecticut since 1985 and in New London since 1996. She studied art at the University of Oklahoma, Connecticut College and the Boston Museum School. She has taught children's art classes at Solomon Schechter Academy, the Lyman Allyn Museum and the Slater Museum in Norwich. Having also lived and travelled in Europe, the Middle East, and the West Coast, Sylvia brings a
multiplicity of experiences to her work.

Sylvia is currently employed as the archivist at New London Landmarks and is an active member of the New London community. Her current work reflects her surroundings at the south end of town, especially the Nature Walk at Ocean Beach Park. Sylvia was chair of the Save Ocean Beach Nature Walk Committee during the first phase of its construction that included the observation deck and the interpretive signs at the end of Alewife Cove.
"New London Alphabet -- the letter V" by Gretchen Hatfield

Gretchen Hatfield is an illustrator and painter, proud to call New London home for the last 3 years...living in CT for 23. She has had her work published in videos and booklets by Twenty-Third Publications of Mystic CT. They are a Catholic publishing company with worldwide distribution. Her muralwork can be found in businesses and residences in CT, RI, ME, and Quebec; she has also done murals in exhibits for Mystic
Seaport Museum, 2003's "Women and the Sea" and "Seadogs!Great Tails of the Sea" in 2002. Her animal portraits, 200+, are in homes all over the US. Other freelance jobs include working with Anvil, a product display company with clients from NYC to Zagreb, Croatia ,and the Goodspeed Operahouse paintshop, painting shows for the Goodspeed, the Norma Terris Theatre in Chester, Ford's Theatre in Washington DC
and theatres in NYC.

"My work is illustrative, representational, detailed, and created on wood, hide, paper and canvas," says Gretchen. "Wood is enjoyable because it becomes another medium in the piece. I would describe my work as nostalgically evocative; otherworldly."
******************************************************************
Golden Street Gallery
presents
"GIFTS OF DIVERSITY"
in celebration of gay/ lesbian pride month
featuring new works by New London working artists:

Kat Murphy : encaustic paintings

Sgott Mackenzie : blacksmithing, metal work,
home made furniture

Greg Bowerman : whimsical drawings and paintings
OPENING RECEPTION
Thursday May 26th, 6pm-9pm
Exhibit runs May 26 - June 26, 2005
******************************************************************
Organized Entropy
Artists are all presently students at
Connecticut College:
Lauren Horowitz '05
John Mancarella '05
Jillian May '05
Mark Warren '07
Opening Reception:
Saturday April 30, 2005, 6-9pm

Exhibition runs through May 22nd
Lauren Horowitz, "Image 1427"
Lauren Horowitz, "Image 1468"
Lauren Horowitz
Artist bio:
Lauren Horowitz is a studio art major at Connecticut College who specializes in mixed
media and who has received former training as a painter and printmaker. Lauren, a native
Southern Californian, spent the first semester of her junior year abroad studying printmaking at the Scuola Internazionale di Grafica in Venice, Italy, before moving on to study studio painting in Santiago, Chile. She will graduate in May with a B.A. degree in Studio Art.
Title of work: Snapshots
Description of work:
I lived in Santiago, Chile, from February to August, 2004. I took several photos capturing small details of Chilean life. These prints represent important elements of my visual experience in Chile.
The visual information is not identifiably unique to Chile, however, or any other particular place, since the dynamics of globalization have created a visual community of increasing uniformity, causing difficulty in distinguishing the local and the particular. No matter how homogenized these images are, they are uniquely Chilean to me because they act as my personal journal. The series of prints, titled Snapshots, illustrate the distinctive visual images of my Chilean memories.
John Mancerella, "Heart"
John Mancerella, "Soulmates"
John Mancerella, "Moment of Realization"
John Mancarella '05
artist bio:
My Work:
I spent several months in Venice last year studying art and the culture. This experience
can influence a young artist in different ways, and I found myself not succumbing to the cliches of Venetian art. Rather, through many hours of sketching in pen and ink, I developed what I call Minimalist Absurdity. Each image is self-contained and simplistic, but conceptually interesting or bizarre. These pieces are just a small portion of the Venice Sketchbook.
Myself: I have created art since I was very young through many forms including visual arts, music and theater. I have studied fine arts at Connecticut College and the Scuola Internazionale di Grafica in Venice and will be graduating with a BA in studio art this year. I have also taken part in commercial art through doing design work for various college and private publications as well as working at Scholastic Inc. this past summer. My goals as an artist are to publish my own illustrated novels, several of which are currently in production.

Jillian M. May, "Metro"
JillianM. May, "Salvador en Barcelona"
JillianM. May, "La Boqueria"
Jillian M. May
Artist Bio
Jillian M. May is a senior art student at Connecticut College, where she focuses primarily on mixed media and installation work. Other academic interests include architecture and religious studies, both of which contribute to her visual vocabulary and preferences. Travel and the colors associated with a specific place have been major sources of inspiration in her recent work. During the fall of 2003, Jillian studied at the Scuola Internazionale di Grafica in Venice, Italy, where she was exposed to artists of a variety of nationalities and backgrounds. She then had the opportunity to live in Barcelona, taking courses at the Universitat de Barcelona, working as an apprentice to local sculptor Luis Gueilburt, drinking coffee, and exploring the city. Currently, she has a public installation on the Connecticut College campus as part of the Senior Art Major show, entitled "Art Is." Jillian sees the creative process as a religion, something all-encompassing, practiced daily with authenticity and integrity. She hopes to pursue her art further after college.
Artist Statement
If you have never been to Barcelona, you should go. The vibrancy of the everyday visual experience is overwhelming; the diversity of cultures creates a strange but interesting amalgamation of styles. When I returned home after seven months enveloped in what some refer to as "the Enchantress," I felt compelled to express this sensory overload in my art. The work I have created recalls the bright colors and snatches of life that I experienced every day while walking around the city. Some of the pieces refer to themes that are visible throughout Barcelona, such as Catalan nationalism or its unique artistic heritage.
I was constantly intrigued by the graffiti art present in Barcelona. During the summer, as I would walk by the same wall in the Raval district late each night on my way home, I would see new artists at work on their public masterpieces. The stencil techniques and layering that I was so attracted to have an obvious impact on my work, which is done primarily with standard cans of spray paint. The layering of graphic and text elements also refers to the layers of history and culture that are so apparent in the city and that co-exist harmoniously.
Medium: mixed media (spray paint, ink, paper) - I guess you could call it collage…

Mark Warren
******************************************************************
"PUMP IT UP"
a visual response to the written word in cellebration
of National poetry month.
This is a regional juried exhibition including all
media, installation, sculpture, drawing, painting,
jewlery, photography and mixed media.
Opening reception Saturday March 26, 6-9pm
Cash Award of $250 for Juror's Choice Award being
presented at 7:30pm

Exhibit runs from March 26 - April 24th, 2005
The second annual poetry brunch will be held on
Sunday April 24th at the gallery on the last day of
the exhibition.
More about the juror:
Michael Bradford, Assistant Professor of Dramatic Arts
at Avery Point & Storrs. University of Connecticut
Michael Bradford teaches theatre history, theatre
literature and playwriting. He earned a Bachelor of
Arts from U. Conn. and a Master of Fine Arts at
Brooklyn College of C.U.N.Y. He has written numerous
stage plays and one acts, as well as directed. Some
of his productions include work with the Brown
University Theater Department, Flock Theatre in New
London, the Access Theatre in New York and
Provincetown Playwrights Festival. Bradford was the
recipient of the Manhattan Theatre Club Playwright
fellowship. He also received the Lark Theatre
Playwright Residency fellowship, as well as
nominations by the Audelco Theatre (NY) for his play
Living in The Wind. He has served on the Cherry Lane
Theatre Playwright's Board, Lark Theatre (NY) Festival
Board, and Rhode Island Art Foundation Grant
Committee.
******************************************************************
Rural vs. Urban
a depiction of the painted landscape
new works by Judith Kuhn
and Tory Bryant

Opening reception:
Saturday February 19, 6-9pm

On exhibit until March 20, 2005
Tory Bryant paintings
Judith Kuhn paintings
Tory Bryant's objective in painting is not to be limited to the drawing alone. She expresses emotion and observation through the exploration of color. Tory's intention is to manipulate the viewer's perception of the image. Her color and paint application create the illusion of clarity at distances while retaining elusive qualities up-close.
As a young child growing up in Canterbury, Connecticut, Tory Bryant showed an early flair for Art and received regular and expert encouragement from her mother. Tory's early inspirations sprung from seemingly unlikely sources, such as matchbox cars, marbles, yo-yos and candy. She began her formal study at Norwich Free Academy and continued her education at Lyme Academy of Fine Arts. At the Academy she majored in Oil Painting and received a BFA in 1999. While at College she took the summers to travel with backpack and easel through the green hills of Europe. Upon graduating, Tory broadened her knowledge of art by attending the Arts Students League in New York City. She also trained in graphic design.
Tory Bryant is very vigorous in her art she is previously working on a multitude of projects ranging from oil painting commissions to book Illustrations. Tory has been working with an author for over ten years creating the characters he imagines. Tory is also working on a project in conjunction with the Town of Brooklyn, replacing Two wolf heads at the base of a war hero's monument, formally sculpted by Karl Gerhardt in the 1877.
Tory is a participant in the Urban Artists Initiative program which draws artists from a wide variety of cultural and economic backgrounds throughout the State of Connecticut, funded by the Connecticut Commission of the Arts.
Recently Tory Bryant was awarded Best in show at the UAI's Southeast Region Exhibition. This favorable recognition created the opportunity for her to show at the Bradley International Airport entitled Destination Connecticut Arts: 'Visionary Landscapes', one of nine artists selected. Tory has a multitude of projects she is working on and continues to create a name for herself as an artist.
******************************************************************
New Figurative Drawings and Paintings
by Philip LaVarge
and Michael McNabney

Opening Reception:
Saturday, November 27, from 6- 9 PM
On exhibit until January 2, 2005
Biographies
Michael McNabney creates figurative and landscape
works in several media, focusing on oil painting. He
studied at the Lyme Academy College of Fine Arts and
at the Art Students League of New York. Mr. McNabney's
work has recently been exhibited at the Stonington
Vinyard's Gallery in Stonington, CT. Michael's
paintings are represented in in private and corporate
collections. He currently lives in in Ledyard, CT with
his wife, children and dog.
Philip La Varge is exercising his discipline through
silver point drawing. He will be giving a demonstration
and talk on this technique during the
New London Open at the Gallery on Sunday December 5th
at 2pm. Philip has exhibited extensively in
Connecticut as well as in San Francisco and San Diego,
California, Rochester, New York, and, Houston and San
Marcos, Texas

"Self Portrait with Sunflowers"
by Michael McNabney
(oil on canvas)
******************************************************************
Golden Street Gallery
"ARTISTS IN RESIDENCE"
New sculpture by Matt Quinn
-Vermont Studio Center-
New Paintings by Greg Bowerman
-Farmington Valley Arts Center-
Opening Reception Saturday October 23, 6-9pm

(show runs until November 24th)
As Artists-in-Residence, MATT QUINN and GREG BOWERMAN
both received full scholarships, Quinn at the Vermont Studio Center,
and Bowerman at the Farmington Valley Art Studio.

Matt Quinn was awarded a month long residency at the Vermont
Studio Center, Johnson, Vt, from the LymeAcademy College of
Fine Arts Alumni Association. Greg Bowerman was
awarded a six month residency at the Farmington Valley
Arts Center, Avon, CT, from the Urban Arts Initiative,
Connecticut Commission on the Arts and the Institute
for Community Research.
Mathew Quinn's Artist Statement:
Matt Quinn, New London based sculptor recently
completed a month-long residency at the Vermont Studio
Center in Johnson, Vermont. The work exhibited was
either conceived at or completed during the stay.
Describing the experience at the Vermont Studio Center:

Between three square meals each day, the studio
provides uninterrupted work time in what can be an
isolated and intense studio environment. I shut the
door behind me and tried by best to manifest, -if only
briefly-, every idea and concept my brain wanted to
explore. The sculptures represent the recuperation, or
organization, of this expulsion. They embody the
process of free association transitioning to a
calculated series of collection and connections.
Describing himself: the artist is a glorified monkey
trying to visually define and describe his universe.


Greg Bowerman's Artist's Statement:
Greg commuted back and forth from New London to Avon.
All of his work was also conceived at or completed at
the Farmington Valley Arts Center. Greg's movement
toward a smaller scale of paintings was in part based
on the amount of traveling required for the residency.
The new paintings deal with energy, movement and
rhythm with a minimalist approach. The environment of
the studio complex was one of community spirit and
support and Greg was able to bring alot of that
enthusiasm and organizational strength home with him
to the New London Arts scene.
Both artists are 2001 graduates of the Lyme Academy
College of Fine Arts and maintain studios in downtown
New London. They both feel extremely fortunate to have
had this opportunity and wish to thank the Urban Arts
Initiative, the Connecticut Commission on the Arts,
the Institute for Community Research and the
LymeAcademy College of Fine Arts Alumni association.

******************************************************************
Recent Watercolors
by Don Eccleston

Opening Reception Thursday July 8, 6-9pm

exhibition runs until August 10


Don Eccleston is a well-known retired art teacher in the New London area.
He creates mysterious and fascinating semi-abstract images which seem
to carry mythological inferences. He lives in Uncasville, CT. He received his
BS in Art Education from Hartford Art School in 1957, then had a studio on
Vincente Boulevard in Hollywood, California until 1960.
His work has been shown in Los Angeles venues, including Barnstable Gallery,
at later at the Slater Museum on Norwich, CT, and the Mystic Art Association.
He has had one-person shows at the Lyman Allen Museum in New London,
at the Terrain Graphics Gallery in SoHo, NYC, and at the
York Square Gallery in New Haven.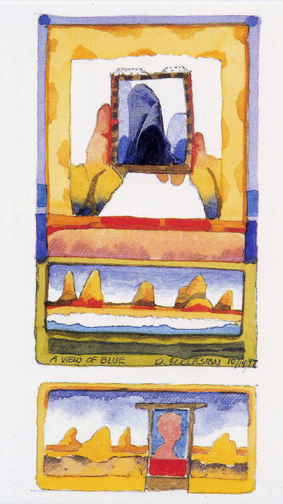 A View of Blue, watercolor, 12" x 10"
******************************************************************
"Paintings and Prints"
new work by David Brubaker

Opening Reception Saturday June 5, 6-9pm

exhibition runs from June 5 - July 6

Bio
David Brubaker lives in Old Lyme and works primarily as a painter and
printmaker. He studied plein air landscape painting with Rackstraw
Downes and Neil Welliver, at the University of Pennsylvania, where he
completed undergraduate studies in fine arts and architectural drawing.
In 1980, he entered the graduate program in painting at the School of
the Art Institute of Chicago and also began work in the areas of
etching and filmmaking. While finishing requirements for an MFA in
painting, he turned to aesthetics and eventually completed a doctorate
in the philosophy of art, at the University of Illinois. Since his
return to Connecticut in 1992, he has been teaching at both the
University of New Haven, in the Visual Arts and Philosophy Programs,
and at the Stamford campus of the University of Connecticut. In recent
years, his paintings and prints have appeared in a number of local and
regional exhibitions. His work has been shown at the Lyme Art
Association, the Essex Art Association, the Rose Farm Gallery, the John
Slade Ely House, Artspace, the Seton Gallery at the University of New
Haven, the Carriage House Barn Gallery in New Canaan, and the Center
for Contemporary Printmaking in Norwalk.
Artist's Statement
What does the world need in order to be fashioned as an artwork?
Artists must discover the forms and physical materials which enable
their works to emerge. But which needs and interests will guide an
artist in arranging forms and elements? Painters may choose to
represent the perceptible forms and features of things. Or they may
use color to express emotions produced by objects. Some seek to convey
things as belonging to a reality that exists apart from different human
observers. It is also possible to use color to emphasize the dimension
of visibility which gives fleeting thoughts a place of their own within
nature. In my current work, I am exploring ways to convey the
dimension of visibility which is present between thoughts and real
things.

Goodspeed Opera House
Etching, Aquatint (in blue)
8.75 x 11.75

Trees, Eight Mile River
Oil on Canvas
18" x 14"
******************************************************************
ANCIENT LANDFORMS AND MODERN PLAYGROUNDS
Installation, Interactive and Performance work by
Michael Bergeron
April 29 - May 29, 2004
OPENING RECEPTION Thursday April 29, 6pm - 9pm,
generously sponsored by BRIAN BROTHERS and
"THE KITCHEN" restaurant located on Bank Street,
New London, CT
Closing reception, artist's dinner Thursday May 27,
6pm - 9pm
ARTIST'S STATEMENT:
People are curious to know what kind of art it is I make when they find out I am
an artist. It is not an easy answer for me. For instance, there are painters who
make paintings, and sculptors who make sculptures. As hard as I try,I do not fall
into such a category. I am left with only one answer that makes sense to me. I am
an artist.
It is my view that I am a person first and it is the idea of artist that explains
all of who I am (at least to my own mind).I have somehow arrived
with this life of mine today, that is not yesterday and not knowing what
will be tomorrow. And the ideal becomes an attempt to see the world
of humankind as a creation of one person towards another.
To paraphrase NoamChomsky, a conversation between two people
is one of the most profound and simplest acts of creating. And it is here that
I wish to begin. I desire to begin a dialogue, a conversation of sorts between
myself and all of you who wish to attend. And what will not be overlooked is the
strong sense of play that is needed and wanted and loved in all constructive
acts of creation. I wish to meld the bibilical with the umbilical to the
neurochemical;the cubical with the fecal to the technological; the local
with the tautological to the uncritical. I invite all into the playground
of artistic adventure.
Come and enjoy what could be awful or what could also
be quite wonderful. For the next month, the gallery space will be
a place for me to work, to live and to dream and play. It will be a place
for to watch, to speak, to stop by and color, to ignore or to engage.
I look forward to all of you coming. (or not coming.) Or I lie, as in fact
I may want to be alone, but of course now it is too late for that.
The art has already begun.
"What lies behind us and what lies before us are tiny
matters compared to what lies within us."
OLIVER WENDELL HOLMES
"It is not enough if you are busy. The question is,
What are you busy about?"
HENRY DAVID THOREAU

******************************************************************
SEEING IN A DIFFERENT LIGHT
paintings and drawings by Gloria Shapiro Potjan

Opening Reception: Saturday March 27, 2004, 6-9pm
Artist's talk at 6pm, Reception following

Exhibition: March 27 - April 25, 2004
Gallery Closed Sunday April 11, 2004
Artist Brunch: Sunday April 25, 11am
In celebration of National Poetry Month, a list of
poets, including the artist, will be presenting the
art of the spoken word

ABOUT THE ARTIST
Gloria Shapiro Potjan was born in Germany and came to
the United States in 1959 as a student. She has lived
and worked as an artist in New York City since 1961.
Her education includes the Pratt Institute in New York
as well as the Art Academy in Munich. She has been
exhibiting in one woman shows and group exhibitions
extensively in the United States and abroad. She is
the most recent recipient of a grant from the
G.E.D.O.K. Holstein in Germany. This grant enabled Ms.
Shapiro to work in Lubeck this past December and
January. Her drawings, oil pastels and paintings in
acrylic and oil are held in private collections here
and abroad.
At the Gibbs Studio, New York, Gloria is exhibiting
her most recent drawings, oil pastels and acrylic on
paper.
The Golden Street Gallery is thrilled to welcome
Gloria Shapiro Potjan to New London. The German
Expressionist influence and experimental nature
displayed in Gloria's work, force the viewer beyond
purely viewing the exhibition for its aesthetic
qualities. The drawings and paintings transport one
back to their own thoughts and memories and a desire
to know more about Gloria's thought processes occurs.
Gloria will be giving a talk about her work on
Saturday March 27, at 6pm, with an opening reception
immediately following.

******************************************************************

SOCIAL INTERACTION
new paintings by Shayna Blum

February 21 - March 21, 2004

Opening Reception: Thursday February 26, 2004, 6-9pm
musical accompaient by Guno LeeFlang
The Golden Street gallery presents "SOCIAL INTERACTION" , new paintings by
emeging artist Shayna Blum, a New Haven native, who has engrossed her new paintings
in a subject matter based on social interaction, of gatherings of people in bars, cafes,
galleries and onthe street. She is reflecting on her days as a waitress where she became
a silent observer, drawing images in her mind of the customers, situations and interactions
she was encountering.

Click on an image for a larger view
Shayna's interest in painting lies with color and its connection with texture, organic and
linear shapes. Her images are simplified and primitave in their nature and form, reflecting
her constant battle of wills she experiences going back and forth from NYC and VT.




Influenced by Hans Hoffman, the most important aspects of Shayna's new body of work
are an emphasis on repetitive forms and color studies.
During the artists reception, Shayna will be joined by Guno LeeFlang, an eclectic
guitarists and keyboard manipulater. Guno is originally a storyteller from Surinam
who now resides in New London, CT. Golden Street Gallery is thrilled to have
both of these talented fresh new faces represented here this month.

******************************************************************
"TRADITIONS"
new work by Kat Murphy, Jessica Mercedes Thornton
and Greg Bowerman

January 31 - February 15, 2004

Opening Reception Saturday January 31, 8pm - 12am

Kat Murphy is one of the original members at the
Hygienic Arts Co-op in New London, CT. Her artwork is
focused mainly on encaustic and mixed media painting.
After studying painting at Boston University for three
years she decided to keep painting on her own and
graduated with a BA in Spanish Language and
Literature. She has studied in Spain, traveled in
Mexico and Morocco and worked as a decorative
painter and interior designer in London, New York,
Dallas, Boston and Local areas. Wherever she goes she
has surrounded herself with a community of incredible
people which she credits to enhancing her talents and
creativity.
Kat Murphy "Surfacing" is currently on view at the
Ulla Surland Gallery Eleven in Fairfield, CT. until
February 7, 2004. The exhibition is a mix of old,
recent and new paintings. The title is a perfect fit
considering the nature of the work with its multiple
layers and texture. It also defines the artist's
growth within the last three years and surfacing to
this point of direction in developing her style.
For the upcoming exhibition "Traditions" at the Golden
Street Gallery in New London opening January 31, 2004,
Kat is bringing elements of historical architecture
into the modern backdrop of her encaustic paintings on
a grand scale.

Greg Bowerman is also a resident artist at the
Hygienic Arts Co-op, a participant in the Urban Arts
Iniative and a recent scholarship reciepent from the
Connecticut Commission on the Arts, for a six month
studio residency at the Farmington Valley Arts Center
in Avon, CT. Greg is a full time oil painter who
enjoys creating visual responses to literature and
spirituality based text. For this exhibition,
"Traditions", Greg has created multiple works that
relate with one another as visual responses to the
definition of Tradition itself.
tra-di-tion:
1: an inherited, established, or customary pattern,
thought, action, or behavior (as a religious practice
or a social custom.
2: the handing down of information, beliefs, and
customs by word of mouth or by example from one
generation to another without written instruction.
3: cultural continuity in social attitudes and
institutions.
4: characteristic manner, method or style.
Jessica Mercedes Thornton is a New London resident
artist, a participant in the Connecticut Urban Arts
Iniative and a recent fellowship recepient for the
Vermont Arts Studios Center in Vermont.
Jessica's Artists statement:
"It is with culture and through our traditions that we
can question and define who we are and what we are
not. Our young country defines its traditions on a
somewhat detached level, indigenousness we are not,
but it is through a tradition that we can root
personal history. In art I have been trained as the
masters, paying close attention to anatomy,
perspective and proportion and I have a deep love and
respect for that tradition, but I question and clamber
to make my own traditions and find my own visual way.
I have ventured to understand the tradition of the
Matador, the life and death of Toro bravo, and it is
with this tradition that I can begin to understand the
dance of love and hate."
******************************************************************
Towards A Narrative Space
oil and mixed media by
Nathan Lewis
October 25 - November 23, 2003

Opening Reception:
Saturday, October 25
7 - 9 pm
***********************************************************************
ART TO PLAY WITH
a new collection of portraits & toys
Jenn Collins in collaboration with Paul McMasters
Artist Reception:
Saturday, September 27, 7 to 9 PM

Exhibition: September 27 - October 19, 2003
also the same evening ! --
***********************************************************************
"Automatic"
Featuring recent works by Hygienic Co-op members
Kat Murphy and
Greg Bowerman (director of the Golden Street Gallery)
and guest artist Will Golaboski
Artist Reception:
Saturday, September 27, 7 to 10 PM
Hygienic Arts Co-op
79 Bank Street
New London, CT 06320

Exhibition: September 27 - October 19, 2003
***********************************************************************
***********************************************************************
Gently Pass on Bye
oil & acrylic on paper by
Brian Stephens

Artist Reception:
Saturday, September 6, 7 to 9 PM

Exhibition: August 15 - September 18, 2003

***********************************************************************
ANOTHER DAY
paintings by Xenia Fedorchenko
& James Reed
July 10 - August 14, 2003
Opening Reception:
Thursday, July 10, from 7- 9 PM
and Friday, July 25, from 7- 9 PM
in conjunction with
the New London Art Stroll 5 to 8 PM
***********************************************************************


Island Images : Island Light
new works by Judith Winder
June 8 - July 6, 2003
Opening Reception:
Sunday, June 8, from 2- 5 PM

***********************************************************************
May 3 - June 6, 2003
Opening Reception:
Saturday, May 3, from 7- 9 PM
***********************************************************************
Random Acts of Communion:
Interactions & Observations
by: J.M. Thornton
and Bryan R. Tyler

March 29 - May 1, 2003
Opening Reception:
Saturday, March 29,from 7- 9 PM

***********************************************************************


Anima / Animus
an exhibition of works on paper by
Gillian Whittle
& Robert Wale
Opening Reception: Saturday, February 22 from 7 - 9 PM

*********************************************
***********************************************************************

Reception: Saturday, November 30, 2002, 7 - 9 PM


Hours
Thursday 2 - 6 PM
Friday 2 - 9 PM
Saturday 12 noon - 9 PM
Sunday 12 noon - 6 PM
Monday - Wednesday by chance or appointment

(860) 444-0659